Ensemble Due Venti
Ensemble Due Venti was founded in the summer of 2020 as a basso continuo group for recording sessions of baroque chamber cantata by Sergio Foresti.
The idea was to give the basso continuo its own voice in order to have a dialogue between the sung voice and the instrumental accompaniment. Each voice is relevant in the grand total. Each voice contributes to the communication of the composition. The principles of style offer musical and artistic freedom. The more the musicians give in to the music, the more our souls can be moved. That is the aim of all music.
Ensemble Due Venti is a project based basso continuo group, created to perform 18th century vocal and instrumental chamber music. The goal is to perform the music with joy and freedom within the conventions of the various styles. The group seeks to create beauty in recordings and concerts in servitude of the composer and the music. The ensemble consists of befriended and appreciated colleagues. For this recording the ensemble consisted of Agnieszka Oszanca, cello, Simone Vallerotonda, archlute, and Alessandro Trapasso, harpsichord.
Agnieszka Oszanca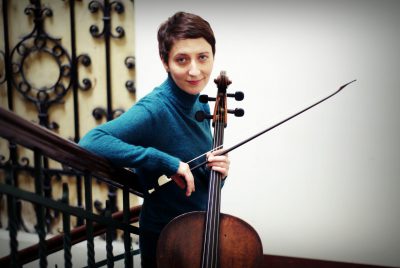 Agnieszka Oszanca studied historical cello under the guidance of Viola de Hoog at the Utrecht Conservatory in the Netherlands. She specialized in solo and chamber music repertoire from the early baroque to the late Romantic period. After her studies, she was awarded scholarship by the foundation Academia Montis Regalis and joined its orchestral training scheme, where she had a pleasure to lead basso continuo section. She was a finalist of the International Young Artist Presentations and a recipient of the Second Prize at Mannheimer Musikfest.
Her style of playing is often described as fiery, exciting, stylish, and tasteful. She is highly praised for her freedom of expression. Agnieszka Oszanca is one of the most accomplished Polish baroque musicians of her generation. She performs regularly with European orchestras and chamber music ensembles, playing in the most important concert venues and early music festivals. Her present professional engagements include regular appearances in role of principal cello with Ensemble Odyssee (NL), Ensemble Stile Galante (IT/NL). She is guest principle cellist of Capella Cracoviensis (PL), Fabio Bonizzoni`s La Risonanza (IT), and of several other Italian and Polish groups specialized in historical informed performance practice.
She appears as a soloist in sonata as well as concerto repertoire where she focuses on the compositions from the high baroque period and Bach unaccompanied cello suites. She forms duos with brilliant harpsichordists Patrycja Domagalska (PL) and Fabio Bonizzoni (IT) and also collaborates with an Italian dancer Francesca La Cava on a project featuring music for violoncello solo by Bach and Biber.
Agnieszka Oszanca has recorded for several CD labels and major radio and tv stations. is published by Challenge Records published her first solo album of 6 cello sonatas of Salvatore Lanzetti's Opus 1 in May 2019. The album was received warmly. She plays on a copy of an Italian baroque cello made specially for her by Master Luthier Jan Bobak.
She is the Baroque Cello teacher at the Harpsichord and Historical Performance Practice Department of Karol Szymanowski Academy of Music in Katowice, Poland, and at La Risonanza Early Music Summer Academy in Bertinoro, Italy.
In her free time Agnieszka loves to spend her free time in the mountains, hiking, skiing or climbing, or in the kitchen, cooking, fermenting and baking.
Simone Vallerotonda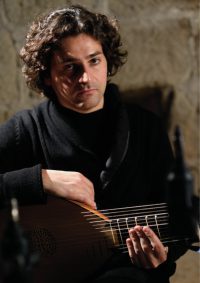 Simone Vallerotonda (Rome, 1983) studied the classical guitar. At age 18, deeply in love with early music, he had lute tuition from Andrea Damiani at the Santa Cecilia Conservatory in Rome. He subsequently obtained a Master's Degree in theorbo and Baroque Guitar at the Staatliche Hochschule für Musik in Trossingen (Germany) under the guidance of Rolf Lislevand. He also graduated in Philosophy at the Tor Vergata University of Rome, all titles with the highest marks. In 2011, he won the soloists' class of the International Lute Competition 'Maurizio Pratola', also obtaining the highest prize in the chamber music section from REMA (Réseau Européen de Musique Ancienne).
Since then, he performed in many theatres and concert venues worldwide, such as New York's Carnegie Hall, Teatro de la Ciudad in Mexico City, the Singapore Lyric Opera, London's Wigmore Hall, and Theatre de Champs Élysées in Paris. He is a regular guest at many well-known festivals, among which the festivals at Innsbruck, Potsdam, Stresa, Beaune, Ambronay, Bruges, and Utrecht. He records frequently for radio and television and appears in many CDs on a number of labels. As a soloist he recorded 'Giovanni Zamboni – l'ultimo romano'.
In addition to his soloist's activity, he takes part as a continuo player in various ensembles including: Accademia Nazionale Santa Cecilia, L'Arpeggiata, Les Ambassadeurs, and the Imaginarium Ensemble. Open to experimentation, he also collaborates with the innovative ensemble Soqquadro Italiano. He teaches Lute at the Conservatory of Vicenza.
In 2014 he founded 'I Bassifondi', his own proprietary ensemble offering a 17th-18th century repertoire for guitar, theorbo and lute with continuo. Their debut album 'Alfabeto falso' was nominated in the ICMA 2018 (International Classical Music Award) among the best baroque instrumental records.
Alessandro Trapasso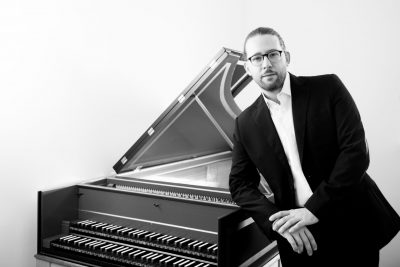 Alessandro Trapasso (1988) is an Italian harpsichordist, organist, pianist, and historical keyboard player. He graduated as pianist in 2013 at the Conservatory 'A. Boito' in Parma, Italy. In 2017 he obtained another Master's Degree there, this time in harpsichord. He attended masterclasses in piano, harpsichord, and organ interpretation with renowned artists and teachers like Pietro De Maria, Ramin Bahrami, Emilia Fadini, Enrico Baiano, Maurizio Croci, Cristophe Rousset, Menno van Delft, Miklòs Spànyi, Pieter van Dijk, and Béatrice Martin.
Trapasso loves to study. He is always on the search to create a warm sound that communicates to the audience. He performs as piano soloist and director with several ensembles and orchestras like the Dedalus ensemble, Fides in musica, and his own Primavera Barocca Ensemble. He performs mostly in chamber music. On the harpsichord he has a preference for Bach and the French harpsichord repertoire of composers like Couperin and D'Anglebert. On the piano he plays à quattre mains in the French style of Debussy, Fauré, Ravel, and Bizet.
He frequently performs as a continuo player on both the harpsichord and the organ. He has worked with ensembles like Filarmonica Arturo Toscanini, Camerata Ducale di Parma, Ensemble Boito, and the Flores musicae ensemble. He appeared in music festivals in Italy like the World Bach-Fest in Florence, Settembre al Borgo in Casertavecchia, Anima mea in Bari, Urbino musica antica in Urbino, and at the Utrecht Early music festival in the Netherlands.